Our hassle free Services backed by our state of the art System keep your payroll process smooth and seemless.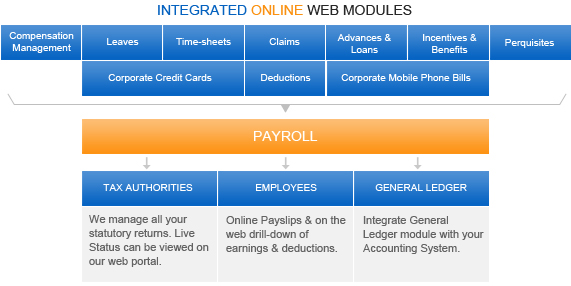 Main features of our Payroll Services are:
A single system to manage all

Don't waste your time in managing and reconciling spread sheets. Manage all HR related areas with one system, end to end.

Employees self-service portal

Employees' self-service portal streamline and expedite the process of staff applications and Approval, Rejections or Forward by Managers. Using self-service portal employees can view their transactions, monthly payslips as well as drill-down individual earning and deductions.

Mid month changes
Deal with all mid month changes e.g; joiner, leaver or salary increment etc
Weekly, Fornightly or Monthly payroll

Segregate and run employees payroll according to employee's payment frequency, weekly, fortnightly or monthly.

24x7 Support for employees queries
24x7 Support to resolve employees system or payroll related queries either through email, chat or phone.
Reporting
Ready to use or on-demand reports published through our online integrated reporting engine for simple or complex analysis.
No Hardware, Software or Staff cost
Promenics is delivered Software as a Service (SaaS). System and Data is hosted, manged and maintained 24x7 by us in our secure clouds. All you need an internet connection and a web browser to access. Connect your people to the right process as well as to each other.